My secret obsession is watching videos on Youtube. But I only watch videos related to books. And sometimes I don't have enough time to do other things because I have so many videos on my watching list.
Today I saw great Book Tag and decided that I would do it. Nobody tagged me, but I don't care – I still can answer to those questions. I saw this tag on Between Chapters channel. So, here we go.
Crunching Leaves. The word is full of colors. Choose a book that has reds/oranges/yellows on the cover.
I chose The Alchemist by Paulo Coelho. I bought this book a long time ago when I was on
vacation and it's in English. My cover is orange and whenever I see the cover I get the association to Fall.
Cozy Sweater. It's finally cool enough to don warm cozy clothing. What book gives you the warm fuzzies?
I thought that I will have more problems with answering to this question. But the first book that popped on my mind was the book I read this summer – To all the boys I've loved before by Jenny Han. I was trying to remember any other book that would fit he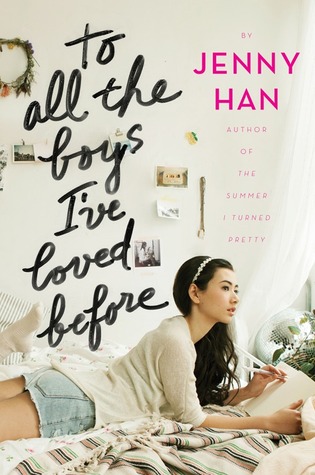 re, but I couldn't remember any. So this one is my first and only choice.
Fall storm- The wind is howling and the rain is pounding. Choose your favorite book OR genre that you like to read on a stormy day.
Of course, I will choose a genre. I don't have a favorite book or a book that I would love to read on moody days. When rain is falling and it's cold I love to seat on my couch, wrapped in a blanket and read any book. But the books that I love most on that kind of days are crime or mysteries. They just go with that kind of mood.
Cool Crisp air. What's the coolest character you'd want to trade places with?
Ugh, I had troubles with this question. There are many books that I would love to be in. But at the end I would
go with book Ronia, the Robber's Daughter by Astrid Lindgren. And of course, I would trade place with Ronja. I read this book so many times as a child and I just had to buy it last year when I saw it in a bookstore. It's just such a great book, full of adventures and I really like the friendship of Ronja and Birk.
Hot Apple Cider. What under-hyped book do you want to become the next biggest, hottest thing?
I usually read books that are all hyped. It's logical because I watch Youtube videos and usually all people are reading same books. But the answer would be – any Slovenian book. I wish that people would see how many great books we have here in Sl
ovenia. But there is a particular book that I wish it would become the hottest thing and this is Alamut by Vladimir Bartol. This book is already translated to English language and it's just so good. The story is amazing, the topic is always actual and the book is really well written.
Coat, Scarves and Mittens. The weather has turned cold and it's time to cover up. What's the most embarrassing book cover you own that you like to keep hidden in public?
LaToya. My boyfriend got this book for a present and it was actually some kind of joke. But we put it on our bo
okshelves and whenever somebody is searching through our books I want to die because I'm so ashamed that we own it. Probably you're interested what this book is about – it's a biography of Slovenian porn star.
Pumpkin Spice. What's your favorite Fall time comforts food/foods?
Apple pie. Or anything with Apples. Because during the Fall we have a lot of Apples and I think that Apple pie is easiest to bake. And it's so delicious. And I never have enough of it.
Warm, cozy Bonfire. Spread the cozy warmth. Who do you tag?
Because I'm new here and I have a feeling that I still have a lot to learn about blogging and I'm not familiar yet in this sphere I will leave this question unanswered. But feel free to do it if you want to have fun answering questions.